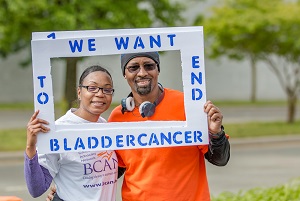 Greater Boston Urology
We are walking to raise funds for the Bladder Cancer Advocacy Network (BCAN) to fulfill its mission to advance research, provide information and support, and to raise awareness on bladder cancer.
More than six hundred thousand people living with bladder cancer in the US; to support the nearly 79,000 who will be diagnosed this year; and to honor the 16,000 who will die from this disease.
DONATE NOW! In honor of all those affected by bladder cancer – please help us reach our goal. Any amount helps!
JOIN MY TEAM and invite others you know to do the same!
By making a donation to our team, you will be helping BCAN to promote bladder cancer research education and support programs – but, most importantly, to save lives.
DATE: Saturday, May 5, 2018
LOCATION: The Riverway, 440 Park Drive, Boston, MA 02215
CHECK-IN: 8:00 AM

WALK: 9:00 AM
Special Notes:
The walk route is 1.4 miles long.
View More

Beth Mog
$25

Michael Curran
$250

Achievements
No Badges Have Been Earned
Team Honor Roll
Precision Marketing Group, LLC
$250
Mr. Jonathan Brajtbord
$25
Top Donors
Precision Marketing Group, LLC
Michael Curran
Dr. michael donovan
James Fitzgerald
Charna Reichel